Jang Ok Jung (TV 1-24End) DVD
Written by ximin
Monday, 23 December 2013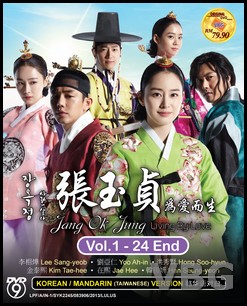 Title Name

: JANG OK-JUNG, LIVING BY LOVE 張玉貞,為愛而生

No. Of Disc
: 4 DVD (24 Episodes)
Version
: Korean / Mandarin
Subtitles
: Chinese / English / Malay

Barcode
: 955532910
Item Code
: VBG 0265
Selling Price
: RM79.90
Format
: DVD9
Genre

:

drama
Story
This drama tells the story of Jang Ok Jung, known as Lady Jang Hee Bin, one of Korea's best known royal concubines of the Joseon Dynasty and famous for her hunger for power and ruthless plotting. However, this drama will tell a completely new interpretation of the infamous royal concubine Lady Jang Hee Bin and show the story before she became concubine and how her involvement as a fashion designer and cosmetics-maker during that era. This drama will also highlight the love story between Jang Ok Jung and King Sook Jong.

劇本根據同名小說及朝鮮時代著名歷史人物禧嬪張氏(張禧嬪)的生平改編而成,講述這位朝鮮歷史上著名的「妖婦」如何從普通宮女破格獲封為妃,獨佔朝鮮肅宗的寵愛于一身,最後卻又因宮廷鬥爭而被賜死的跌宕起伏的一生.

Cerekarama mengisahkan kehidupan Jang Ok Jung, yang dikenali sebagai Lady Jang Hee Bin, salah seorang gundik diraja Dinasti Joseon yang tersohor di Korea. Antara yang lain, perebutan kuasa yang rakus melalui muslihat cukup ganas. Namun, filem ini turut mengajukan interpretasi baru golongan gundik dengan segala perbuatan Lady Jang Hee Bin yang terkenal jahatnya. Bahkan juga rentetan peristiwa tentang dirinya menceburkan diri dalam perekaan fesyen dan bidang kosmetik sebelum dia menjadi gundik pada zaman itu. Justeru, percintaan romantis antara Jang Ok Jung dan Raja Sook Jong juga jadi tumpuan ramai.

Last Updated ( Monday, 23 December 2013 )