LITTLE BUSTERS! SEASON 1 + 2 VOL.1-39 END
Written by ximin
Friday, 11 September 2015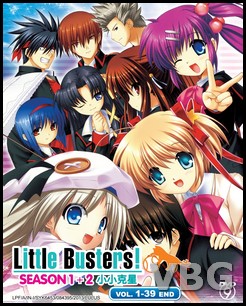 Title Name

: LITTLE BUSTERS! SEASON 1 + 2 小小克星 VOL.1-39 END

No. Of Disc
: 2DVD9 + 2 DVD5 (39 Episodes)
Version
: Japanese
Subtitles
: Chinese / English / Malay

Barcode
: 9555652702792
Item Code
: GM 0265
Selling Price
: RM39.90 (ORI) RM42.30 (GST)
Format
: DVD9
Genre

:

drama, romance
Story:
Little Busters is an adaptation of Key's romance adventure visual novel of the same name. Riki Naoe was orphaned when his parents died, but his depression is slowly lifted when he befriends a group of kids calling themselves the Little Busters. The series takes place during his second year of high school.

主人公直枝理树自幼父母双亡,当他深陷孤单与 绝望的时候,一个名为「Little Busters」的四人组(枣恭介、枣铃、井之原真人、宫泽谦吾)拯救了他。他们把理树带出了阴暗的世界,不停的尝试各种新活动。理树与他们在一起,忘记 了寂寞和痛苦。时间飞逝,他们进入了同一所高中,现在已经是二年级生了。即使面临生活和求职的压力,今年他们还是围绕恭介的提案,在棒球场上尽情挥洒着青 春。

Riki Naoe menjadi anak yatim piatu selepas ibubapanya meninggal dunia, namun kesedihannya semakin dilupai bila dia berkawan dengan sekumpulan budak yang menggelar diri "Little Busters". Siri ini berlaku semasa tahun kedua sekolah tingginya.

Last Updated ( Friday, 11 September 2015 )