HAYATE THE COMBAT BUTLER! COMPLETE BOXSET(SEASON 1-4 + THE MOVIE)
Written by ximin
Thursday, 21 January 2016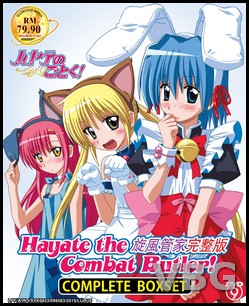 Title Name


: HAYATE THE COMBAT BUTLER! COMPLETE BOXSET 旋风管家完整版 (SEASON 1-4 + THE MOVIE)

No. Of Disc
: (6DVD9 + 5DVD5)
Version
: Japanese / Cantonese (Season 1+2)
Subtitles
: Chinese / English / Malay
Barcode
: 9555652702976
Item Code
: GM 0283
Selling Price
: RM75.40 (ORI) RM79.90 (GST)
Format
: DVD9+ DVD5
Genre

:

comedy

,

romance

,

slice of life
Story
Taking place after the events that occurred in Hayate no Gotoku! Can't Take My Eyes off You. Hayate, Nagi and Maria return to their daily lives at the Sanzenin Mansion and the Violet Mansion.
故事讲述主人公绫埼飒继续以管家的身份和女仆玛莉亚一同在公寓紫之馆为大小姐三千院凪工作。
Kisah Hayate Ayasaki bekerja di samping pembantu rumah Maria di rumah agam Nagi Sanzenin bersambung.